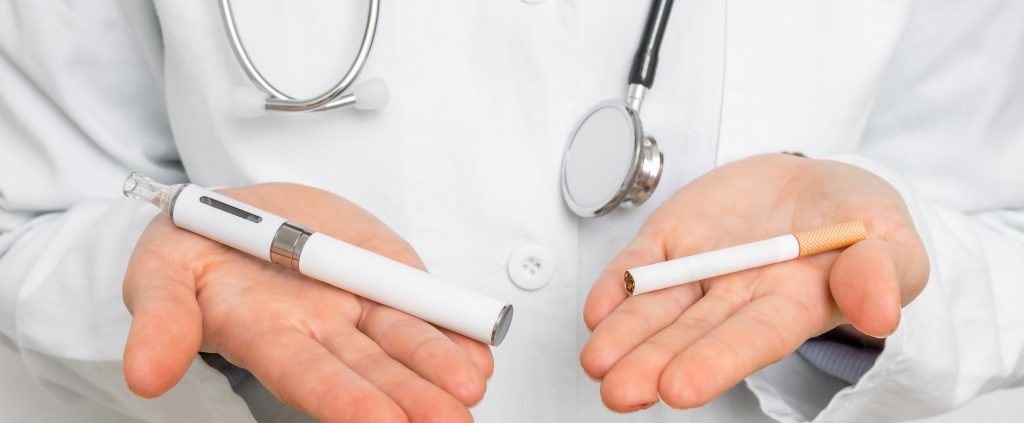 What You Need to Know About Vaping
October 3, 2019
By Rhine Law Firm, P.C.
How Do E-Cigarettes Work?
E-cigarettes work by heating a liquid to produce an aerosol that users inhale into their lungs.
The liquid can contain nicotine, tetrahydrocannabinol (THC) and cannabinoid (CBD) oils, and other substances and additives.
Lately, it seems like vaping is everywhere, and everyone is talking about it. Worryingly, it's impressionable children and young adults who are being most exposed to it. Vaping is all over social media – and young consumers are being bombarded with images of all the "cool kids" doing it – celebrities, athletes, musicians – even their peers. Worse still, high school and college students are being specifically and aggressively targeted by vape companies telling them that vaping is safe, fun, non-addicting, and cool. They are told that e-cigarettes have no health risks, and the vape companies downplay or deny the amount of nicotine contained in vape products. As a direct result, many young people are vaping with a complete disregard of any potential health risks. It's the exact same thing that cigarette companies were doing fifty years ago, and we're now facing the same outcomes. Vaping, like smoking, isn't safe. News reports from the last month have been inundated with stories of people who have died or are finding out that they have irrevocable lung damage.
History of Vaping
Vaping (or e-cigarettes) initially became popular as a tool to help smokers give up the habit. It provided smokers with a way to get their hit of nicotine and avoid the toxins of a burning cigarette. Because e-cigarettes were being marketed as safe, it wasn't long before teenagers and young adults were trying it and becoming hooked.
Although flavored cigarettes were banned from being sold in the U.S. in 2009, the ban did not apply to e-cigarettes. In fact, e-cigarettes (and the liquids used in them) face no regulations at all with regards to safety or product design. This allows for vaping companies to target students by offering a product that is cheap, sweet (using flavors like gummi bear, cotton candy, bubble gum or banana) and easy to buy. As a result, the number of high school students vaping has reached unprecedented levels. By 2017, more than 2 million middle and high school students were vaping.
What Are the Dangers?
On September 19, 2019, the CDC posted the following on their website: "CDC, the U.S. Food and Drug Administration (FDA), state and local health departments, and other clinical and public health partners are investigating a multistate outbreak of lung injury associated with e-cigarette product (devices, liquids, refill pods, and/or cartridges) use."
To date, there are now over 800 cases of vaping-related lung disease in the U.S. (including cases in North Carolina), with 17 confirmed deaths. It is still unclear what specifically is causing the illnesses, but every single case has been tied to e-cigarette use (either THC or nicotine).
Symptoms include:
cough, shortness of breath, or chest pain
nausea, vomiting, or diarrhea
fatigue, fever, or abdominal pain
Unlike how lung disease develops in smokers over a long period of years, the onset of lung disease in e-cigarette users is sudden, violent, and potentially deadly. In some cases, symptoms appeared within weeks, and in others, the onset happened within days or even hours of use.
It is still unknown what specifically about vaping is causing this health crisis, but the CDC recommends refraining from using any e-cigarette or vaping products.
How We Can Help
We want to hold vaping companies like JUUL accountable for their aggressive and deceitful marketing practices towards children, and we want to help families get fair compensation for vaping injuries. If you or a family member has developed an addiction, pulmonary disease, or a lung injury due to vaping, please contact us immediately. We offer a free consultation where we will go over your potential case and advise you on the next steps if we think you have a case.
Resources & Sources
Compilation of Vaping Stories in the News
Categories
https://www.carolinaaccidentattorneys.com/wp-content/uploads/2021/12/doctor-vaping-1024x680-1.jpeg
680
1024
Rhine Law Firm, P.C.
https://www.carolinaaccidentattorneys.com/wp-content/uploads/2021/12/Rhine-Law-Logo.png
Rhine Law Firm, P.C.
2019-10-03 20:54:00
2023-03-02 17:16:49
What You Need to Know About Vaping