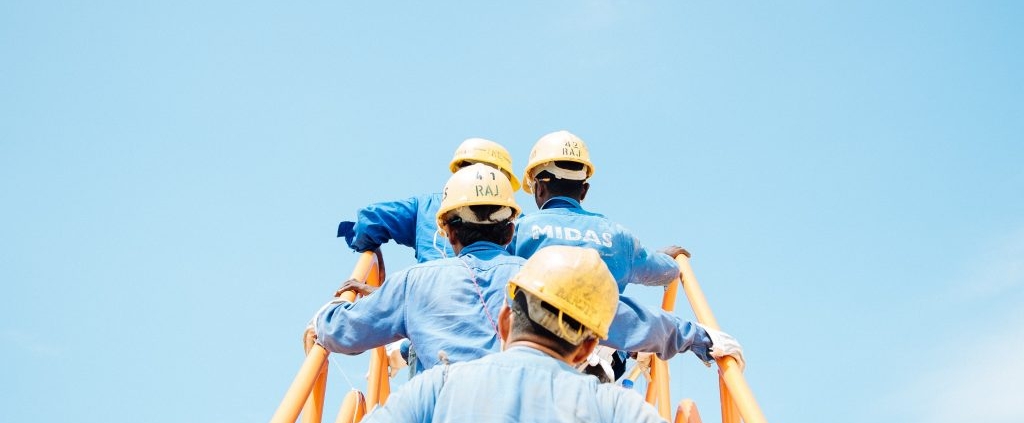 Construction Workers' Rights in North Carolina
August 29, 2018
By Rhine Law Firm, P.C.
Every year, emergency rooms across the country fill up with people who suffered serious falls at work—but they are not the only danger when it comes to construction sites in our state. In North Carolina as of January 2018, struck-by incidents took the lead in causing the most fatal accidents on construction sites, narrowly beating falls. Struck-by incidents occur when a worker is injured by forcible contact with an object or piece of equipment, such as a vehicle. These injuries and deaths are made more likely by all the highway work that is being completed. According to N.C. Department of Labor, construction continues to be the most hazardous industry in the state.
Construction workers have a right to expect that they will be kept safe while they are at work, and their employers do have federal obligations and responsibilities. Unfortunately, too many times, North Carolina workers are injured when construction companies, building owners, or supervisors do not fulfill those responsibilities.
Employees' Rights in the Construction Industry
The Occupational Safety and Health Act (OSHA) provides employees a number of rights when they are in the workplace. OSHA's General Duty Clause places a duty upon employers to "furnish to each of his employee's employment and a place of employment which is free from recognized hazards that are causing or are likely to cause death or serious physical harm to his employees," and also to comply with OSHA's safety and health standards.
In addition to these general duties, OSHA includes specific standards for various work-related situations, such as fall protection. Employers must ensure that their employees are protected from fall hazards through the use of items such as safety harnesses and personal fall arrest systems (PFAS) and they also must meet all requirements of OSHA's fall protection subsection.
Employees can't do their jobs effectively and safely without first having proper information and training to do so. Employers are required to provide adequate safety training to their employees and to ensure that OSHA standards are met in the workplace. Following OSHA safety standards helps to maintain the safety of all workers in dangerous work zones like construction sites.
Employers are required to report fatalities and severe injuries to OSHA. When an employee is killed on the job in North Carolina, the employer must report this fact to OSHA within eight hours. In-patient hospitalizations, amputations, and eye loss of an employee on the job all must be reported by the employer to OSHA within 24 hours. Employees also have the right to file complaints, report injuries, or request OSHA inspections if they believe serious hazards exist or OSHA standards are not being met in the workplace. OSHA will keep such complaints and reports by whistleblowers confidential.
Employers' Responsibilities in the Construction Industry
Employers have a responsibility to keep their employees safe, and to that end, OSHA enforces many standards. In the construction industry, for example, employers must ensure that fall protection, such as a harness, is worn at elevations of six feet or higher. Regardless of the height, if a construction worker is working over dangerous equipment or a dangerous condition, the employer must also provide fall protection.
In addition to fall protection, OSHA has specific standards on numerous construction-specific topics such as scaffolding, cranes and rigging, excavations, steel erection, and power tools.
Workers' Compensation in North Carolina Is Not Always Enough
Workers' compensation often results in inadequate or incomplete compensation to people who have suffered serious injuries or the death of a loved one at the workplace. However, when entities other than your employer may have responsibility for your injuries, a third-party claim may be a viable option to recover damages. For example, on most construction sites in North Carolina, there is often a contractor and multiple subcontractors working together. If one subcontractor's negligence or failure to follow safety procedures results in harm to another subcontractor's employee, the injured employee can pursue the non-employing subcontractor in a third-party claim.
Identifying potential defendants to be pursued in a third-party claim is a critical step in ensuring you receive adequate compensation if you are injured on a job site, such as a construction site.
The legal team at Rhine Law Firm, P.C., has handled many such cases and can assist you in identifying potential third-party defendants if you are injured on the job. For a consultation with a skilled Wilmington workplace injury attorney, please call (910) 772-9960 today.
Categories
https://www.carolinaaccidentattorneys.com/wp-content/uploads/2021/12/solomon-hsu-518339-unsplash-1024x684-1.jpg
684
1024
Rhine Law Firm, P.C.
https://www.carolinaaccidentattorneys.com/wp-content/uploads/2021/12/Rhine-Law-Logo.png
Rhine Law Firm, P.C.
2018-08-29 18:59:00
2023-03-02 17:10:54
Construction Workers' Rights in North Carolina