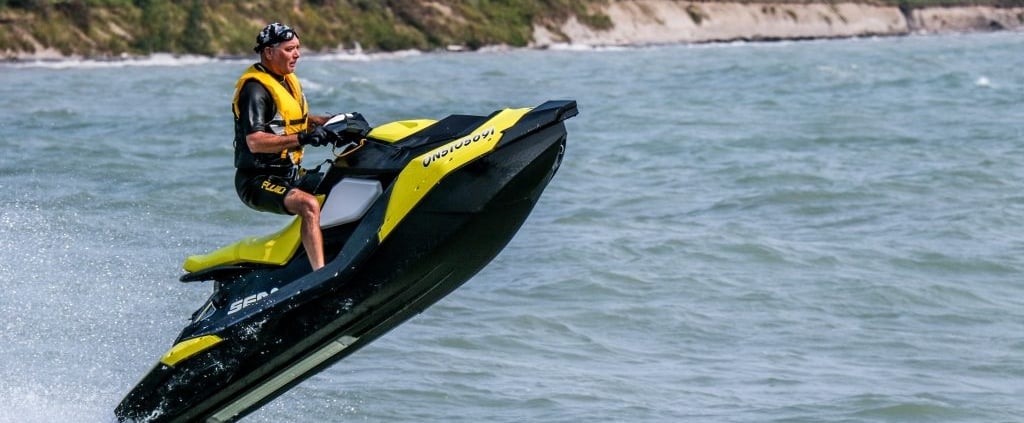 What Happens After a Personal Watercraft Collision?
July 12, 2018
By Rhine Law Firm, P.C.
The air is getting warmer in coastal North Carolina, and that means the ocean and other waterways will become crowded with swimmers and watersport enthusiasts. While popular lakes such as Lake Santeetlah and Fontana Lake will provide happy summer memories for most, bodies of water can also set the scene for serious collisions.
So, who is responsible when a Jet Ski wreck occurs? And how can those who are seriously hurt seek compensation for their injuries?
Common Jet Ski Injuries
A Jet Ski or WaveRunner is a personal watercraft that has a motor to propel it through the water. As such, it can travel at high speeds and cause injuries similar to collisions between two cars on the road. Here are the common injuries we see:
Concussions. When two jet skis collide, a rider can hit his head on the equipment, or on the water. At high speeds, hitting one's head on the water can feel similar to hitting it against something solid. Brain tissue is delicate and doesn't necessarily have to impact against a solid surface to be damaged.
Spinal cord injuries. Spinal cord injuries can result in partial or full paralysis and slipped or herniated disks. These types of injuries require immediate medical attention and can affect a person for the rest of his life.
Broken or sprained wrists and ankles. These can occur as a result of a high-impact Jet Ski collision. The force of the crash may break bones, or a person may try to catch himself from falling off his jet ski and break his wrist that way.
Burns. Because Jet Skis have motors, and fuel and oil, any time there is a Jet Ski crash it may result in the Jet Skis igniting. Burns can be very serious and leave a person suffering from consequences, such as disfigurement or severe scarring, for the rest of his life.
Who's Liable After a Watercraft Crash?
Most Jet Ski accidents are a result of operator error. While the operator or passenger who is injured may not be at fault, another Jet Ski operator may be. People who operate motorized watercraft are expected to act in a reasonable and safe manner, just as those operating cars are expected to act in a reasonable and safe manner. When they fail to do so, that negligence can make them liable for providing compensation to anyone who was injured in the crash.
There are two main ways most Jet Ski crashes happen: when the operator is drunk or driving at excessive speeds. These are also two of the most common types of negligence in Jet Ski wreck cases. However, anytime someone doesn't act in a safe manner and causes injury, he or she may be held liable in civil court.
But Jet Ski wrecks aren't always caused by operator error. If the product has a defect or a flaw, the manufacturer may be responsible. Manufacturers of any product are responsible for ensuring their products can be used safely. When a person uses that product in the way it was intended, but a defect or flaw causes injury, the manufacturer may be held liable for providing compensation for the victim.
Often, personal watercraft are rented out by companies, particularly in tourist destination spots. Those rental companies have a responsibility to keep their watercraft in a safe condition for renters. When they fail to do so, the company may be held liable for any injuries resulting from a Jet Ski wreck.
How a Lawyer Can Help
Jet Ski collision cases are complicated. The injuries can be extremely serious, and claims can involve multiple liable parties. Large corporations with lots of money can tie cases up in court. Even when the person responsible for the crash is another private citizen, these cases can still be very difficult.
Anyone who has been injured in a Jet Ski collision should not try to seek compensation on their own. An experienced Wilmington boating attorney is your best chance for getting a successful outcome at the negotiating table or in court. For a free consultation, please call Rhine Law Firm, P.C., at (910) 772-9960.
Categories
https://www.carolinaaccidentattorneys.com/wp-content/uploads/2021/12/steve-donoghue-384174-unsplash-1024x683-1.jpg
683
1024
Rhine Law Firm, P.C.
https://www.carolinaaccidentattorneys.com/wp-content/uploads/2021/12/Rhine-Law-Logo.png
Rhine Law Firm, P.C.
2018-07-12 18:00:00
2023-03-21 19:11:11
What Happens After a Personal Watercraft Collision?