Wilmington Distracted Driving Accident Lawyer
Legal Representation for Clients Across North Carolina
Many cars we pass on the roads have drivers that, at some point, have driven in a distracted manner. It is one of the most common things drivers do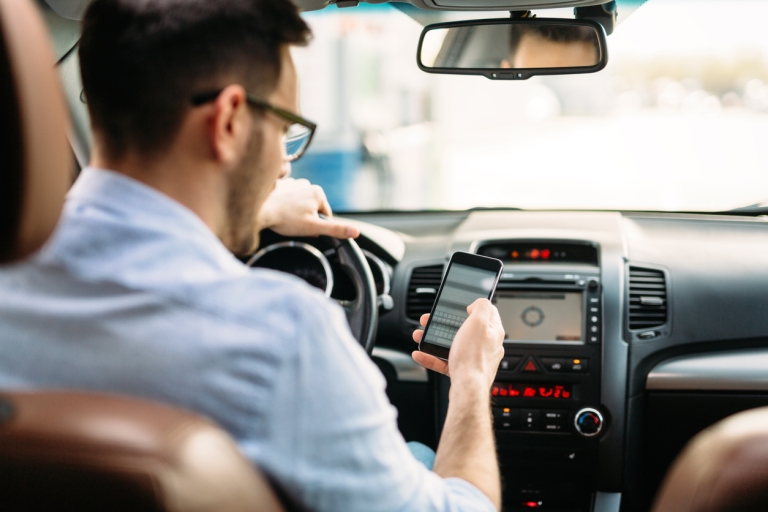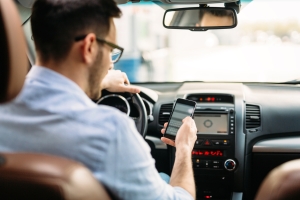 to compromise their safety and that of everyone else on the road.
With the advent of texting, distracted driving has skyrocketed. Texting while driving makes you 23 times more likely to get in a crash compared to driving when not distracted, according to a study by the Virginia Tech Transportation Institute.
If a distracted driver has caused you or your loved ones harm, we urge you to contact a car accident lawyer at Rhine Law Firm, P.C. Based in Wilmington, our comprehensive personal injury law firm is committed to helping families who have suffered major injuries as a result of careless behavior.
What is Distracted Driving?
Distracted driving is any activity that takes a driver's focus away from the road and increases their risk of causing or failing to avoid an accident.
Here are some common examples of distractions:
Looking for gas stations on the GPS
Attempting to read a text message
Changing clothes or applying makeup
Looking for an item in the glove compartment
Arguing with another person in the vehicle
Conducting a meeting on the way to work
Adjusting the AC or radio controls
Distraction is a form of impaired driving. Additional examples include fatigue, driving under the influence, or driving during a medical emergency
Types of Distracted Driving
State law prohibits drivers from using a mobile device to manually text. In addition, it prohibits drivers from reading emails, text messages, or anything else on these devices. Exceptions do apply for drivers who safely stop or park their vehicles, as well as those performing their duty as a member of law enforcement, fire department, or emergency response. The use of GPS and voice-operated "hands-free" mobile functions are allowed. Throughout the years, our distracted driving accident attorneys have assisted clients injured in car accidents caused by distracted drivers who were:
Taking care of children
Texting or talking on cellphones
Letting their minds wander
Adjusting the radio
Eating or drinking
When we sit in the driver's seat, there are many things that we must pay attention to in order to drive, and many things try to take our attention away from driving.
In general, anything that causes distracted driving will fall into one or more categories:
Cognitive Distraction: Anything that causes the mind of the driver to transfer attention away from the road. Holding a conversation with another passenger, listening to the radio, or even thinking about your personal problems can all cause distracted driving.
Visual Distraction: Whenever we move our eyes off the road, it can quickly lead to a dangerous situation. A visual distraction involves anything that causes the drivers to look away from the road. This can include a quick look at your GPS system to peering around your floor for an item you may have dropped.
Manual Distraction: Drivers should always have both hands on the wheels when on the road. When something requires you to remove one or both hands, like eating a sandwich, drinking soda, or fumbling around for your wallet, this is called a manual distraction.
Distracted driving is a significant factor in most crashes. Up to 80% of accidents and 16% of all highway deaths are thought to be caused by distracted driving, according to the National Highway Traffic Safety Administration.
When one study's participants were given the task of answering general knowledge true-or-false questions while driving, researchers found there was decreased brain activity in the regions that control spatial attention and spatial processing. The human brain works very hard when we drive—it requires visual, auditory, and motor control. When drivers are doing a secondary task, such as texting, having a conversation, or pressing buttons on the radio, the brain areas that must be used to drive safely are not activated. In essence, multitasking will always make you less able to drive in a safe manner.
Distracted Driving Laws in North Carolina
North Carolina  has enacted stricter laws in recent years aimed at reducing traffic accidents, including several to curb distracted driving. Knowing these laws can help you stay safe.
Here are some of the most important laws regarding distracted driving:
Texting and Emailing
In North Carolina, sending or reading text-based communications while driving is illegal, regardless of age. This includes emails and instant messages. Even if you do not touch the phone, reading incoming notifications instead of paying attention to the road counts as distracted driving.
Voice-Operated Technology
Experts agree that hands-free use can still distract drivers by diverting their attention and focus. However, most jurisdictions allow hands-free use, which includes North Carolina. The state emphasizes that nothing in its distracted driving laws prohibits voice-operated technology for adults.
Fines and Points Deduction
The North Carolina distracted driving laws allow police officers to issue fines if they observe a driver using their cell phone while operating a vehicle. A first offense can cost $100. However, the law also prohibits deducting points related to the fines provisions.
Phone Use By Minors Behind the Wheel
Minors are prohibited from using cell phones while driving, even using hands-free technology. Only adults 18 years and older can legally use voice-activated technology behind the wheel. Law enforcement allows exceptions for emergencies or when teens need to speak with their parents or spouse.
Phone Use at a Red Light
Some states are so strict that their laws prohibit phone use, even at a red light. Some sources say it is not unlawful to text at a stoplight in North Carolina, while others disagree. An experienced personal injury attorney can advise you, but the best practice is to use your phone only when you have pulled off the road.
What Damages Can Victims Get From A Distracted Driving Accident Claim in North Carolina?
People who have sustained injuries or other damages due to accidents caused by distracted driving in North Carolina may receive compensation which can include the following:
Healthcare Costs
After an injury caused by a distracted driver, you may be able to receive compensation for your medical bills. This includes both present and future healthcare costs associated with the accident. It also covers therapy to assist with related physical or psychological issues.
Loss of Earnings
Compensation can cover the loss of wages  and the loss of future earnings.
Pain and Suffering Damages
Pain and suffering is a common term for losses associated with personal injury cases. This typically includes emotional distress, physical pain, loss of enjoyment of life, and similar damages.
Punitive Damages
In some cases, victims may receive punitive damages   where the at-fault party's behavior was particularly egregious. This type of compensation punishes the person responsible for causing harm and deters them (and others) from repeating such careless actions.
How Long Do I Have to File a Claim in North Carolina?
Statutes of limitations determine how much time you have to file a claim or lawsuit after an accident occurs. For most cases, North Carolina allows three years following an accident, which is longer than other states. For example, it is only one year in Louisiana. Three years might seem like a long time, but it's best to start pursuing any available legal remedy immediately. Memories fade and important evidence supporting your claim may become unavailable. For example, video footage can be erased.
Our office hours are Monday through Friday from 8:30 a.m. to 5 p.m. Evening and weekend appointments are available upon request. We offer Spanish interpretation and translation services
What Happens After a Distracted Driving Accident?
Being the victim of an accident with a distracted driver can have long-lasting consequences. Depending on the severity of the crash, you may have to contend with steep medical expenses, physical rehabilitation, lost income, and other things that make it impossible for you to return to your previous life.
Following an accident, many victims will automatically choose to go through their insurance company to receive their financial compensation. While this may work out in some situations, it's important to note that insurance companies are more concerned with their ability to make a profit than giving you the compensation you deserve. In order to ensure that your rights are protected, it's best to work with an experienced Wilmington distracted driving attorney. You may be able to receive financial compensation that covers all your medical bills, makes up for any lost earnings, and even helps you deal with any emotional pain and suffering caused by the accident.
"Joel Rhine and his staff did everything possible to help us in a very dark period of our lives."
"I couldn't have asked for a better firm to handle my injury claim. If you do not have confidence with your attorney, you need to contact Rhine Law Firm immediately."
"Rhine Law Firm went out of their way to make sure that my mother-in-law obtains everything she is entitled to in an injury case."
"It was a long, arduous process and we cannot thank Joel and the rest of the team at Rhine Law Firm enough."
"Joel will make sure you are well taken care of. He will fight for you and what you deserve and go to all measures to make sure you get it."
Texting & Driving Is Dangerous — We Hold Negligent Drivers Accountable
While technology has its advantages, the use of electronic devices—specifically cellphones—while operating a car or truck can leave people injured or dead. Investigations require a thorough review and analysis of cellphone records. The process is complicated, especially when cellphone companies do not keep adequate records of a customer's activities. That's where our car accident attorneys can help. While we recognize that no amount of compensation can take away the pain you or your family member has endured, filing a claim can help to ease the financial burdens.
Why You Need an Attorney for Your North Carolina Distracted Driving Case
At Rhine Law Firm, we are driven to recover maximum compensation on your behalf. Our award-winning team understands the gravity of your situation. We know how difficult it can be when medical expenses and other bills pile up, and you're unable to work to support your family because of your injuries. Contact us today to request your free case evaluation. And because we work on a contingency basis, there are no upfront legal fees.